By: Roma Verga
It's always the little things that matter. This can serve as one's bread-and-butter when attending to customers. Of course, customers feel good purchasing the products or service they like, but make them feel better that they have availed the goods from YOU. This will ensure you and your business to have a steady building of loyal customer base, spread a good reputation, and help make your business boom.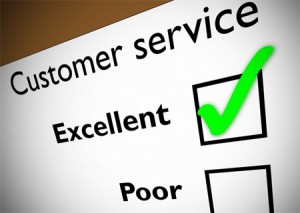 Be perceptive. Minding your business is one thing, but remember that you are only there because your customer is there as well. Try noticing the little things with the customer's preferences or activities. Pass on a compliment if you notice they've had a haircut, greet or congratulate them if they're in a mood of celebrating something like a birthday or promotion. Being attentive should be first and foremost, and this really pays off.
Acknowledgement. Addressing and greeting the customer by their name is a great manner to boost customer experience. If you have a staff that receives customers or client, have them greet the customers with a smile and address them by their name, with a warm and welcome feeling.
Customized Service. Who doesn't like walking in one of their favorite restaurants and have their meal prepared as soon as possible and the way they like it? Or drop by their favorite sports bar and have the bartender grab their preferred drink and have it over before they could even sit down? If there's anything you or your staff can do to remember what your customers like, then give it a go by all means. Remembering customers is nice, but serving their preferred goods while they are in your care makes a greater impression.
Be considerate. Go beyond the good customer experience by being mindful of your customers. Are they having trouble carrying things due to old age or disability? Assist them in carrying their things for them. If they say they're sensitive or prone to something, try helping them out in avoiding such. Care for your customers like doctors would care for their patient's well-being.
Give tribute and appreciate. They're regulars at your place, they patronize your products or service, and you know they still want more. That's good enough sign that they like and appreciate your business. So why not try to return the favor? Give them discount coupons or privilege cards the next time they're at your place, invite them over for special sales to be held, offer a little something for free as a 'thank you' to these customers.
Make your customers smile. Yes it's a professional business to be handled in a professional manner. But one does not have to seem uptight to be efficient in a business. Your customers are people, too. Make them feel relaxed, tell jokes mindfully, talk about that funny and adorable movie, or even offer those complementary candies or cookies from your office. Let them feel they are happy being there and the same goes for you.