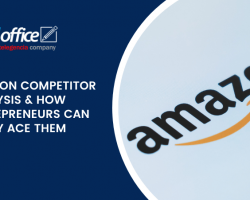 Ever wondered why some sellers on Amazon just seem to have everything figured out?
It could be a product listing you accidentally came across and upon viewing, you realized how cohesive and well put together it is — from the descriptions, to the keywords, and even the product images.
In this striving era of ecommerce, it's certainly not surprising.
Most sellers today spend a huge amount of time on Amazon product page optimization. Sellers are expected to keep up with the trends and its growing diversity in order to survive in this highly competitive industry.
How to Conduct Amazon Competitor Analysis
To conduct a competitor research, users must check the main key points:
View Competitor's Product Listings
Take a peek at the listing of your competitors to keep you updated with their new arrivals and bestsellers. Assess and evaluate each part of the listing and compare with yours. Sometimes, evaluating their Amazon product page optimization can further boost your products into the limelight.  
2. Look into Keywords
Keywords exist and for good reason. Keywords bring in traffic and success to product listings, so looking into the search terms used by your competitors will give you an insight on their keyword strategies. Make use of Amazon keyword optimization to attract potential buyers and improve product visibility.
3. Observe Ads and Campaigns
After Amazon keyword optimization, it is necessary to get an in-depth evaluation by observing their advertising campaigns. Doing so will keep you informed of their advertising strategies and search volume, including the keywords they use. This will give you the edge to come up with better strategies to promote your merchandise.
4. Monitor Price & Monthly Sales
Monitor and take a good look on your competitor's product pricing along with their monthly sales. Since pricing takes a huge role when it comes to making a purchase, knowing their monthly revenue and pricing will make it easier to boost your own sales strategy and tactics.