When you're seriously considering an outsourcing venture, the "make-or-break" point of your decision may lie on your selection of the outsourcing provider. While it is not wrong to get from the Top 10 or Top 5 service providers in the industry, it will not hurt if you keep your options open and see if there are relatively smaller providers who are actually "better fits" for your business needs.
So how do you evaluate outsourcing providers, and select from among the choices? Here's a checklist which could help you determine your right fit: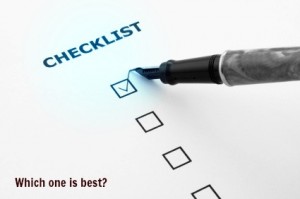 General Profile
 Who is the Service Provider?
Where is it located?
 When was it established?
What's the service provider's expertise?
How does the service provider's management organization chart look like?
Is it a member of any umbrella organization?
What is the annual revenue?
Under this section, give importance to the service provider's expertise. Will the service provider give exactly what you need? Does it have a niche? If the expertise fits what you require, then include the service provider in your short list.
Clients
Doing a research on the service provider's past and present clientele will give you valuable insights on how the provider gives solutions to needs and concerns. Some details that you may need to know are:
Client-base in regions
 Client referrals/ testimonials
Case studies involving the service provider
Process, Technology and Infrastructure  
Evaluating the service provider's facilities, equipment and established work processes is also important if you want to know how efficient and cost-effective their services will be. Look at also how their technology is compatible with what you are currently using, and if their business operations are flexible enough to accommodate your changing needs.
Software
Database systems
 Development processes
Project management system
 Output delivery mechanism
Communication Modes (including communication technologies) between client and provider
Flexibility and scalability of solutions and processes
Office space
Hardware requirements such as workstations, servers and peripherals
Internet connection and phone links
 Management and Staff
Managers' profile, including qualification and experience
Number of employees, and their qualifications, skills and experience
 Employees' attrition rate
Training initiatives for employees
It's crucial for you to know the quality and characteristics of those who will be working for you. Does the management team have proven track records on their claimed expertise? Do the employees communicate well, and possess the appropriate skillsets? Is the company supportive of continuous training/education program for its employees? These and other related questions are to be asked if you want to select the right provider for you.
Pricing
How are the services priced, and what are terms of payment? Are the rates reasonable and/or competitive? Is the payment method fast and easy? These data are important for your cost-cutting objectives, as well as in maintaining/ improving your bottomline.
Cultural Fit
What's essential to a successful outsourcing venture is "cultural compatibility." Can the service provider easily adapt to your work culture and processes? Can they communicate well in spite of differences in language? Are they knowledgeable of your cultural norms and practices? Some other aspects to look at are:
Workplace ethics
Accurate understanding of, and response to client needs
Extent of cultural differences
Value Proposition
What makes this service provider different from the rest? Does it have something that the others don't possess? Value propositions can include:
Willingness to "go the extra mile"
Cutting-edge technology
Service plan options
Orientation towards long-term partnerships
Extensive training programs for employees
Plays the role of a "partner-player"—helping the clients grow their business
This checklist could be modified, based on what you need or require. You may also develop a quantified rating system to make your evaluation and selection easier. Another way of making the "selection process" easier is by taking a look at what we can offer, or even trying one of our service plan offerings. You may also contact us if you want to have some questions or concerns answered.