Your website is your business' online face. Aside from your social media pages, it's where your customers go when they want to know more about your products or services. With these, it is important to ensure that your website is devoid of any mistake which will adversely affect your brand or reputation. Here are website mistakes which are commonly committed by business and/or website owners: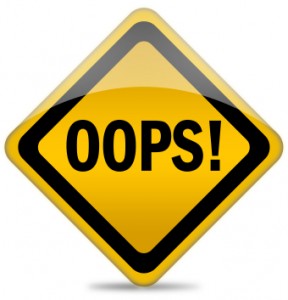 Putting an "Under Construction" sign
This gives the impression that you're an amateur and that you're not taking your online presence seriously. If your website is "under construction," then don't show it to the public yet. Or you could make a better copy and lead your users to your social media pages, say, your Facebook page.
Seriously, the number of visits that your website gets is intended for your eyes only. Your users aren't interested in these figures. What's worse, if the number of visits is tad low, it may reflect poorly on your business image.
Technology and flashes overload
It's okay to incorporate some flash shows and other "modern" applications and widgets in your website, but do not overdo it. Overuse of these technologies will just distract or annoy your visitors, and may even slow down the loading of pages. Aim for simple yet quality designs and easy navigation process.
Long sentences distract and confuse your users because they spend considerable time reading and processing the idea & they're somewhat "required" to keep the idea of the first part of the sentence while going through the last parts. You didn't quite catch that? Good. It means this point is well-explained. 🙂
Of course, if writing long sentences is a mistake, so does having long pages. Unless you want your website to appear like an e-book, do not create long pages. Studies show that most people abstain from reading or browsing through a long web page. So what you could do instead is to keep your pages short, utilize tabs or create a series of pages.
Forgetting to put calls-to-action
Tell your visitors to do something after going through your website. Ask them to sign up for newsletter. Put a link to the contact us page. Ask them to place orders today. Maximize the potential of your website by leading your users to do what you want them to do.
Are you committing one or two of these mistakes? If yes, don't despair—you have all the time to correct the errors.
If you need help in web development, design or even in copywriting, we can help. Feel free to talk to one of our people today.