"Virtual Assistant"– this term has been buzzing around for quite some time now. Many companies are searching a VA who could help with the accomplishment of certain business tasks. What, exactly, does a virtual assistant do?
A virtual assistant (VA) is someone who is skilled in providing administrative, technical and/or creative business support services. They work offsite as well, thus the term "virtual." Virtual assistants provide various types of services, depending on their respective skillsets and on what the companies require and need. We, at 2nd Office, have several VA categories grouped according to specialization: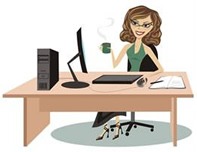 General VA– These virtual assistants don't have any specialization but they are capable of handling a wider range of tasks/activities. These are managerial specialists able to oversee mid to high level activities like marketing, email handling, research, data entry, social media management, calendar scheduling, flight bookings, etc.
Writers and SEO Specialists– These VAs specialize in words. They use the power of the English language to market your business and generate interest amongst your targeted populace of consumers. They can create technical and /or creative write-ups, spin articles, make keyword searches, manage blogs, analyze market trends, and offer brand consultations.
Programmers/ Web Developers– These VAs specialize in computer language. If you need technical assistance and supervision for your systems, these VAs are the perfect people for the job. They can set up and maintain websites and provide custom programming.
Creative VAs– These VAs specialize in visual concepts and design. They can create graphics, provide layout concepts for websites and other materials.
E-commerce Specialists– These VAs specialize in eCommerce. They can provide consultation, assistance, and technical support for varied eCommerce applications such as Prestashop, eBay, Amazon, and Magento. They know the ins and outs of eCommerce.
Our virtual assistants can help you in many different ways. Make your life a lot easier by partnering with a reliable and competent VA. Contact us today and we will be more than happy to discuss details with you.