Providing Exceptional Amazon Listing Optimization Services
We offer Amazon listing creation and optimization using the latest tools strategies
Establishing your brand in the Amazon eCommerce field can be quite tricky. You need to pay close attention to your product listings, from the titles to the images. At 2nd Office, we can assist you with our proven Amazon SEO services.
Amazon Product Listing Optimization
When you Google, "How to sell on Amazon?" you'll come across several articles that list the best practices for uploading your products on the website. Here's how to create and optimize a listing on Amazon.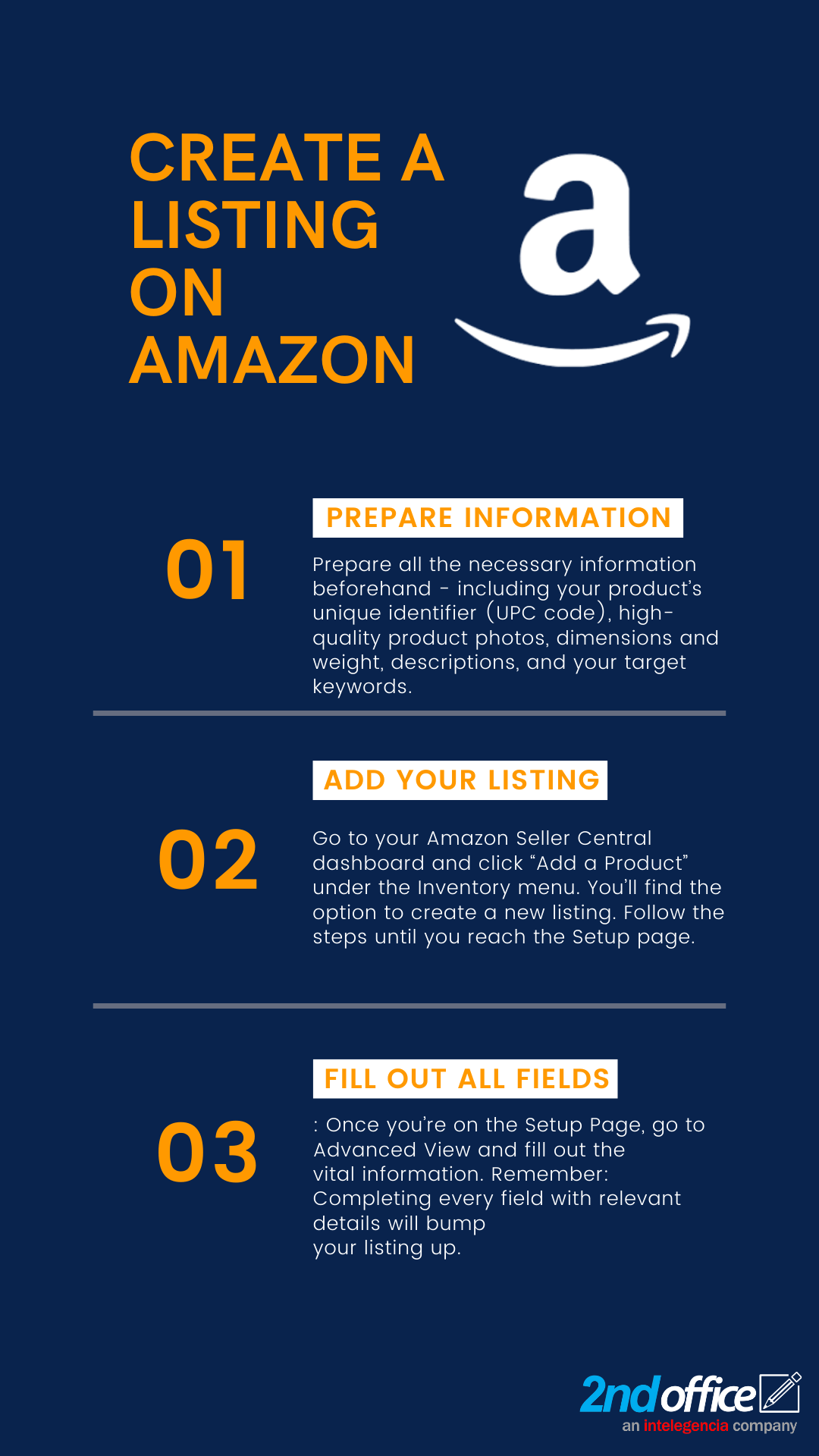 Step 1: Prepare all the necessary information beforehand – including your product's unique identifier (UPC), high-quality product photos, dimensions and weight, descriptions, and your target keywords.
Step 2: Go to your Amazon Seller Central dashboard and click "Add a Product" under the Inventory menu. You'll find the option to create a new listing. Follow the steps until you reach the Setup page.
Step 3: Once you're on the Setup Page, go to Advanced View and fill out the vital information. Remember: Completing every field with relevant details will bump your listing up.
You could also scan the barcodes of your products with your Amazon Seller app.
Amazon Product Listing Requirements
Amazon has strict standards for products that are sold through its platform. Be mindful of the following requirements to avoid any mishaps:
The product information must be detailed, accurate, and factually correct.
Product listings should not contain:
-Links
-Contact Numbers
-Pornographic, racist, sexist, or other offensive titles, descriptions, bullet points, and photographs
Product titles must be at most 200 characters long (depending on the category).
Our team of Amazon virtual assistants experts are ready to assist you so you can display your product with optimized and carefully written listings.
A peek at Amazon's search algorithm
Amazon's search algorithm isn't too far from Google's. The two analyze keywords to deliver relevant content based on customer search. However, unlike Google, the Amazon listing optimization model is more commerce-focused and handles users for an entirely different purpose.
Amazon worked with its subsidiary A9 to create its ranking algorithm. With its promise of delivering the best customer experience possible, the platform analyzes more than one aspect to determine which products should appear on the page.
Here are some of the details that Amazon considers for every search query:
Does the listing have the same search terms or keywords?
Does the product sell well?
Does the product have good reviews?
Is the store sustaining its level of sales well?
Are the items shipped quickly?
Are the prices competitive?
More than those mentioned above, Amazon SEO services also evaluate a more comprehensive set of factors to enhance its search engine.
Best practices for Amazon product listing optimization
For online sellers, getting the optimization right is crucial to reach the right buyers. Some of the things you should consider when creating your listings are:
Product Title
Along with the photo, product titles create the first impression of the item. In 500 characters, create keyword-rich titles that are appealing and informative. Amazon has a formula that could help out too:
Brand + Model number + Model name + Product Type, Color
Product Description
Showcase your product and inject relevant keywords in your product description. It's all about making it as detailed and informative as possible.
Amazon Reviews
Nothing could establish your and your product's credibility more than good reviews. You could try reaching out to your loyal customers for a quick rating.
Images
The best practice is to use five to six images per listing. Visual elements are essential in attracting customers, and for online shopping, it's their only reference as to how your product looks. Take high-quality shots and include a photo of the packaging.
Digging deeper into the relevance of Amazon reviews
Customer reviews are often overlooked, but these are crucial for ranking well in Amazon's algorithm. In some cases, customers even choose lesser-known brands as long as the reviews can vouch for their products and services. Yet, it's more complicated and comprehensive than one might assume.
What we know is that Amazon makes use of advanced machine learning to comb through listings and display the most relevant results (and ratings). Among others, it considers the following:
The date the review was posted
Frequency of reviews from customers
Whether verified shoppers wrote the reviews
Based on the information above, Amazon creates a star rating and displays it on your product page.
While gathering reviews can boost your journey towards the higher ranks of Amazon's search pages, it's essential not to get carried away with numbers. The quality of your feedback matters more than the quantity. Instead of focusing your energy on tapping customers to rate your products, spend your time and resources on giving them better services.
How to optimize your product features section
The challenge is to attract and persuade customers in as little as 1,000 characters. Help your customers visualize the pros of using your product and why they need it. You could try offering lifestyle examples or real-life applications.
Bullets are an excellent way to showcase your product without overwhelming the reader with lengthy, boring text. Try out this formula for the best results:
Attention-grabbing: Start with a catchy phrase to hook your shopper and keep them on your page.
Product benefits: On the second bullet, start adding product benefits, features, and specs.
Feature and appearance: Describe the appearance of the product. It's ideal for highlighting details that aren't noticeable from the product photos.
Frequently asked questions (FAQ): Anticipate questions that customers may ask and list them here.
It's quite a lot to remember, and it can take a bit of practice before you get the hang of it. If you want to list your products efficiently, reach out to us, and our team of experienced Amazon agents would be more than happy to create your listing for you.
We carefully curate the best details and showcase your products in the best light through optimized descriptions, high-quality photos, and appealing product titles.
Ranking your products in Amazon's Search Results Pages
2nd Office Amazon agents have years of experience working with both starting and established sellers on the online marketplace. They know the Amazon algorithm by heart. Grow your online business without fear of any mistakes or failures that could negatively affect your brand.
We are ready to assist you, whether you have one or a thousand products on your page. Our strategies are created to make your listings stand out and get the most exposure.
Want to increase your sales on Amazon?
Our Amazon Listing Optimization service has helped a ton of businesses reach their target sales. In just weeks, you'll find a massive spike in numbers thanks to our proven experience in Amazon SEO.
Our services include:
Listing creation and optimization
Product photo enhancement and editing
Launch strategies to drive internal and external traffic
Amazon campaigns
Listing analysis and performance insights
Turn your shoppers into buyers with the best Amazon SEO services from the 2nd Office.