Offshore Managed Services – 2ndoffice Philippine Outsourcing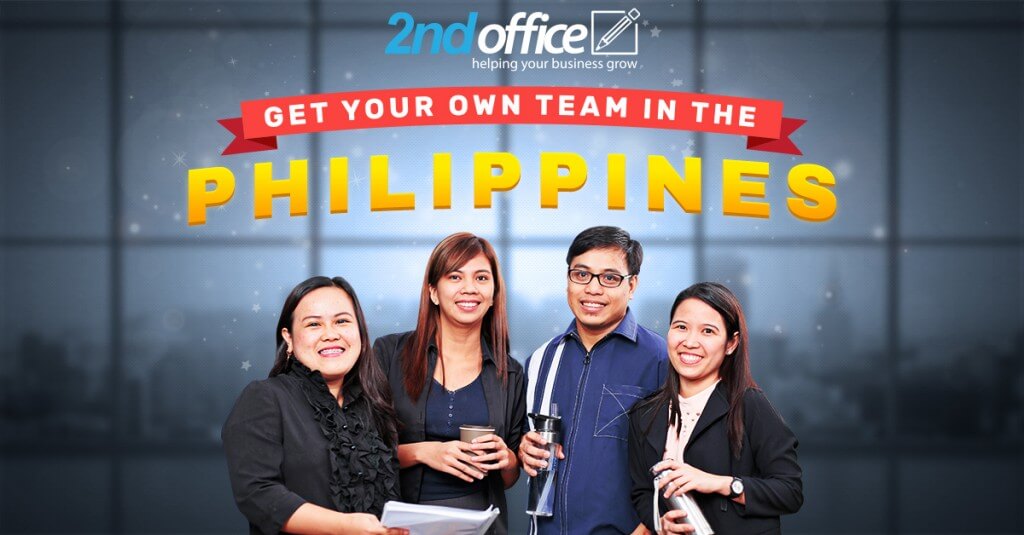 Offshore Managed Services (OMS) is a business delivery model that involves a contractual relationship between the client (you) and a professional BPO organization (2nd Office) wherein 2nd Office provides dedicated (full or part-time) employees to the client and takes over recruitment of employees and all personnel-related administrative activities, including HR, the administration of benefits programs.
The client will be able to interview and select who they would like to hire for their extended offshore team. The staff will work full-time on average 170 hours a month, 5 days a week on an agreed schedule. They can work on any holiday schedule which will be pre-determined before an agreement has been made.
Clients are assigned a Team Lead (TL) that will help manage this offshore team to help keep track of their performance metrics, quality of deliverable and attendance. We ensure that with our TL and additional operational support teams are available so that our client is spending less time micro-managing their remote teams and more time in running their day-to-day business.
With our offshore managed services solution, clients are responsible for providing us with performance metrics, SLA and will need to work with 2nd office so our Team Leads can insure that your team is happy and is working to maximum capacity. The Team Lead is a shared resource (unless mutually decided otherwise). As your team grows with us, we will work with you to assign a team lead that will be a dedicated part of your offshore team.
Offshore Managed Services (OMS) is a business delivery model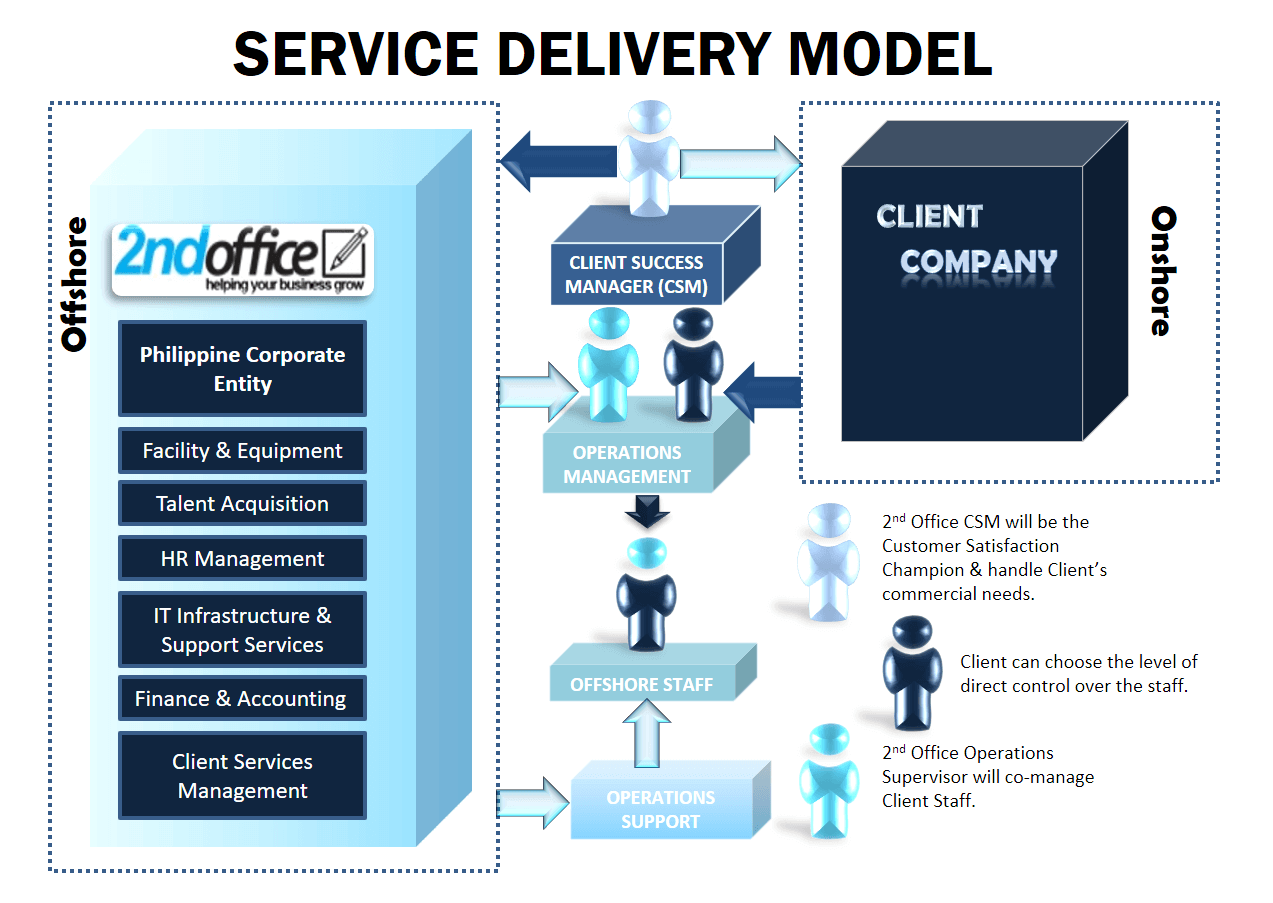 Why should you consider Offshore Managed Services?
Cost Savings of up to 70% – With offshore managed services model, you will be able to save up to 70% off operational and labor costs. You wouldn't have to worry about office space costs, workstations, hiring your own admin, HR and managers. We take care all of this for you so you can focus on operations and growing your business! Let us handle everything else.
Operational Flexibility – We provide you with operational flexibility and a peace of mind. If you need to ramp up or scale down, we have several different types of options that can support your business without any heavy penalties like other companies. We also have full time, part-time, and seasonal staff available depending on your needs.
Access to a Large and Skilled Talent Pool – The Philippines has a large talent pool of skilled labor, the country itself has a population of almost 105 million people and around 42 million in the labor force. English is considered to be the main language in schools, the media and business. The country has a literacy rate of 93% and is the 3rd largest English speaking country in the world. According to Forbes, it is the #1 call center destination for English based businesses and has overtaken India in this space. The online media site bbc.co.uk has called the Philippines the worlds budget English teacher. Clients can easily communicate with their staff here at 2nd Office!
24/7 Operations – By choosing us as your partner, you'll now be able to run 24/7 operations with your business. We operate several different shifts to cater to all time zones, which means you can now tell your customers that you offer 24/7 customer support. What do you think that will do for your business? It would definitely increase customer satisfaction, they will tell all their friends and family of the great service you give and in turn your business will grow.
Our Offshore Managed Services Plans
Full Time Team – 2nd Office team works exclusively for your company on a full time basis. The minimum contract term is 1 year. This is perfect for companies looking to expand their current team, or for companies looking to hire full time staff to work for their business for the long term.
Seasonal Team – Staff members work exclusively for you on a seasonal basis. The minimum contract length is 3-6 months. This is perfect for companies looking to ramp up during your peak seasons and don't want to hire any permanent staff.
How experienced will my team be?
The experience of the staff will depend on your requirements. We separate our staff into different levels of experiences starting at level 1 (entry level) all the way to level 5 which is a managerial position. Costs will vary depending on various factors such as: Shift (timezone), years of work experience and job role.
Here's an example of how we break it down:
Level 1 (0-2 years) – Level 1 staff are entry level staff with 0-2 years of work experience. All of our staff are college graduates and are given multiple tests to make sure they are capable of doing the job they are applying for, our goal is to provide you with smart, talented and capable staff that easily trainable regardless of their work experience.
Level 2 (3-4 years) – Level 2 staff are mid level staff with 3-4 years of work experience. These staff have enough work experience to make those on-the fly decisions with little to no supervision. They are very capable of working alone.
Level 3 (5+ years) – Level 3 staff are higher level staff with 5+ years of work experience in their field. They can work alone and are very capable of handling almost any task you throw at them as long as its within their skill sets. If you're looking to hire more experienced individuals for your business, a level 3 staff is highly recommended. Level 3 staff can also be a Team Lead if they have the qualities of a leader.
Level 4, Team Supervisor (5+ years) – Level 4 staff have at least 5 years of work experience and can supervise a team of 20-30 people at one time. If you have a team of 20 to 30 people with us, we highly recommend you get your own supervisor to manage your team more efficiently. The supervisor can also help supervise other projects and teams within your organization as long as its within their skill sets.
Level 5, Manager (10+ years) – Level 5 staff are managerial staff with 10+ years of work experience. Our larger clients who have a team of 40 or more will typically be composed of rank and file staff, a team lead, 1x supervisors and a manager. With this setup, they are able to maximize and take advantage of our services to its maximum potential, we work with our clients side by side day in and day out to make sure their operations in the Philippines is a success.
What type of roles can I hire for?
Accountant
Accounts Payable Specialist
Accounts Receivable Specialist
Amazon Brand Reputation Specialist
Amazon Customer Support Agent
Amazon Product Lister
Amazon Operations Assosicate
Amazon Sponsored Products Specialist
Automotive Customer Support Specialist
Automotive Marketing Specialist
Automotive Fitment Specialist
Automotive Product Lister
Bookkeeper
Brand MAP Specialist
Brand Reputation Specialist
Business Development
Community (Forum) Moderator
Content Moderation
Copywriter
Customer Support Agent
Data Entry Specialist
Digital Marketer
eBay Brand Reputation Specialist
eBay Customer Support Agent
eBay Product Lister
eBay Operations Associate
Email Marketing Specialist
Excel Expert
Graphic Designer
Inventory Data Entry Specialist
IT Specialist
Lead Generation Specialist
Logistics Associate
Marketplace Brand Reputation Specialist
Marketplace Customer Support Agent
Marketplace Product Lister
Marketplace Manager
Marketplace Operations Assosciate
Medical Encoder
Network Administrator
Online Marketplace Associate
Order Processor
Personal Assistance
Photo Editor
PPC Specialist
Programmer
Purchasing Specialist
Recruitment Specialist
Research Specialist
Sales Assosicate
Sales Executive
SEO Specialist
Social Media Manager
Social Media Specialist
Technical Support Agent
Transcriptionist
Video Editor
Virtual Assistant
Web Developer
Web Merchandiser (eCommerce Product Lister)
I don't see the Job Role I need to Hire For? Can you Help?
Don't see the job role you need to hire for above? Contact us to see if we can fill the job requirement. The Philippines is filled with talented individuals and we have access to a large talent pool, just because you don't see the role on our site doesn't mean we can't fill it!
What's the Process to Get started?
Below is our recruitment and onboarding process.
You'll first need to contact us so we can discuss your requirements and what you're looking for.
We will ask you to fill out a Job Description so we know what the role entails, this enables us to find you the best candidate for the job.
We review the job requirements with you and send you a proposal and our terms of service.
First, we will look in our organization to see if we have anyone available that's qualified for the job. If we do, we will endorse them to you for interview. If we don't have anyone in our current organization qualified for the job, we will start recruiting for the job role. During this time, we will screen and interview the candidates and only send qualified ones to you for interview. Once we find a suitable candidate, we will hire them for your company. If you don't want to be involved in the hiring and trust our judgement, we can take care of the entire screening and selection process.
During the recruitment process, we will also setup the operations framework, KPI's, and metrics for the position.
The staff will go through a 1 month training period and you will be assigned an on-boarding supervisor to make sure that this engagement is a success.
After the training period, the staff will then be endorsed to operations for ongoing management. We will then provide you with on-going support services to make sure our partnership is a success, so you can focus on your core operations, processes and grow your business.