We're Committed to Providing Exceptional Amazon Listing Optimization and E-commerce Services
We offer Amazon listing creation/optimization using the latest tools
Overview
In this day and age, the online business industry is widely thriving across different countries and different platforms. In order to rise as one of the most trusted name in the eCommerce field, you need to put your products out with careful considerations. Well-constructed titles coupled with great description and images add credibility to your Amazon product listing. These factors are what make you stand out; they are what appeal to the customers and convince them to add your products to their carts.
Amazon a9 Algorithm to Optimize Amazon Product Listing
Amazon has established standards that you need to meet to be able to sell on their marketplace. They follow an algorithm that puts the most optimized listing as the top result. If you fail to meet these standards, Amazon may even suspend your account. At 2nd Office, we pride our team of professionals who are well-trained on how to list a product on Amazon. By trusting our company as your service provider, you can now grow your business without worry.
Amazon Listing Requirements
Selling products on Amazon is not as easy as it seems. It requires a lot of work, especially when dealing with necessary details that are required to perfectly showcase your product. There are lots of data and information you must gather for a specific product before Amazon posts your listing. These data must be truthful and accurate to avoid misinformation. Product listings should not contain links and contact numbers. It also cannot contain pornographic, racist, sexist, or similarly offensive titles, descriptions, bullet points, and photographs. Product titles must have a maximum of 200 characters depending on the category. Some fields are even required to be filled out in order to continue listing. This means that Amazon really takes it seriously when it comes to selling on their marketplace. Below are some of the requirements that has to be observed in order to be able to sell: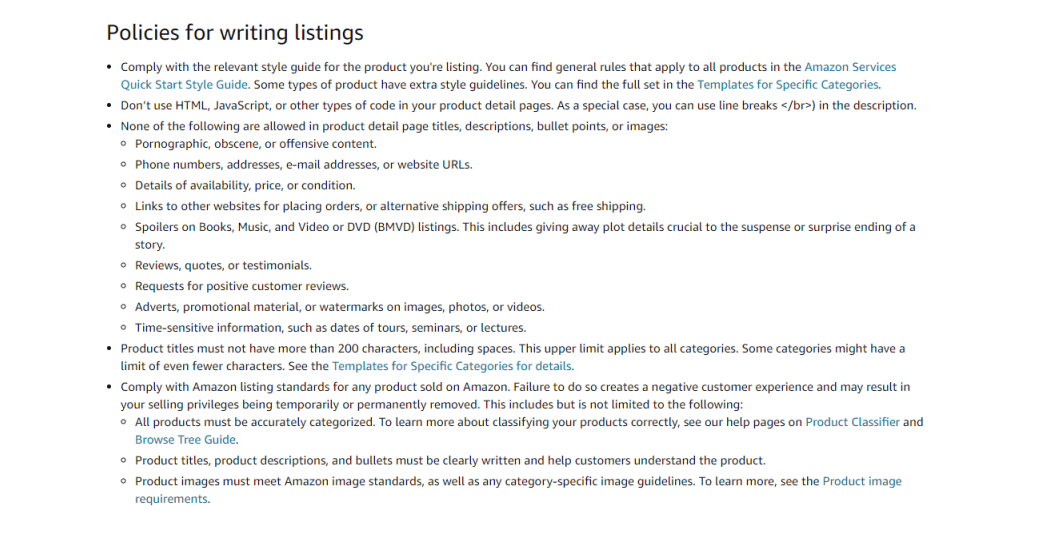 Case Study
Background
Our client was selling branded products as well as products they manufactured in various categories and on different channels. They were in need of a system to manage all of their products and sales.
Challenges

There were thousands of products they wanted to sell but they didn't have enough time to list it
They also needed custom descriptions that will help boost the sales of their products
Thorough product research had to be done in order to find out the best listings and the next items to list
There was also undeniable competition because prices were changing daily
Solution
2nd Office built well-trained, highly skilled, and exclusive team of 4 to take in charge of the Amazon listing optimization for the client. They chose a system that allowed them to list onto Amazon, eBay, and Rakuten and process orders to resolve the pricing issue with various competitors, 2nd Office employed the use of an automatic re-pricing tool that was integrated with the client's system. This resulted to more time that was utilized listing new products.
With meticulous research and innovative software, our team was also able to find the best-selling products on Amazon with the highest sales rank and decided to attach the listings there for better exposure of the client's products. For the manufactured products, our team drove traffic to the listings by using social media and other methods.
Result
There was evident increase in sales by 50% within just the first three months of handling the operations. The client started to see his items selling in just a span of weeks.
Our Values
Here at 2nd Office, we stand by our values that helps us become better and more effective employees.
Your success is our success – We strive to help and train you to improve your skills. Any accomplishment or recognition on your behalf is something 2nd Office is proud of.
Cooperate and work well with teams – We believe that there is no I in TEAM. Working together allows us to achieve our goals easier and faster.
Create solutions, not excuses – We are here to move forward from our mistakes and learn from them rather than use it as an excuse and wallow in it.
Positive attitude towards growth and learning – Criticisms are essential for growth. Which is why we live by our idea of being open-minded about receiving all kinds of feedback.
Work smarter, not harder – Doing your work at your own time encourages life-work balance for more quality deliverables.
Self-starter and always takes the initiative – Widening the skill set of our employees is our priority. We want to breed leaders that are able to take care of work and people in the future.
Create fun and positive vibes around everyone – A happy workplace is also a productive one. 2nd Office prides on giving its employees the liberty of expression, which conduces a comfortable and efficient working space.
Services
Whatever information you put out on the online selling industry can make or break your sales. If you have better listings compared to your competitors, your products will come out on top. Our Amazon listing optimization services are not just like any other listing service. Our team offers top-notch quality services for a very affordable price that can save you up to 70% off labor costs.
The 2nd Office Amazon product listing services are available through our membership plans:
| | |
| --- | --- |
| This plan is ideal for companies who want a team that can work on a task for a project-based period without having to commit to a full-time staff member. | Business who are in need of a dedicated staff member or build a team who will work exclusively under your service will benefit from this plan. |
Contact Us
Our friendly Amazon business development team is ready to analyze your Amazon business needs and to inform you on how we can help you grow your company. To get things started, please contact us now to partner up with the right outsourcing company for your Amazon  listing optimization.