Providing Exceptional Amazon Listing Optimization Services
We offer Amazon listing creation and optimization using the latest tools strategies
If you want to rise as a leading name in the Amazon eCommerce field, you need to be careful with the way you showcase your product listings on the online platform. To build credibility to your product listings, consider using well-constructed titles coupled with great descriptions and images.
We can help your online business thrive with our outstanding Amazon SEO services.
Listing a Product on Amazon
If you've only begun selling on Amazon, listing new products could seem to be a bit tricky. Before you start creating your Amazon listings, ensure that you have all the necessary information ready. This would include your product's unique identifier (UPC Code), some good quality photographs of your products, the dimensions ad weight of your products, clear product descriptions, target keywords for your products, and the category for your product, among others.
Once you have all the necessary information ready, go to the dashboard of your Amazon Seller Central page. Click "Add a Product" under "Inventory." You will find the option to "Create a New Product Listing." Click it and select the appropriate category which applies to your product.
You will be taken to the Setup page for the product listing you need to create. Under the Advanced View, you will find the Vital Info page where you can fill in the relevant fields. Complete each of the fields in the Offer and Description page. Congratulations, you are done with the product listing.
Another easy way to create your product listings on Amazon is by scanning the barcodes on your products using the scanner feature on your Amazon Seller app. You will find the scan button tab on the top right corner side of the Seller app's home screen in Amazon.
Amazon Listing Requirements
Selling products on Amazon is no mean feat even when you have the best optimization strategies in place. It requires a strategic approach, especially when dealing with necessary details that are needed to showcase your product perfectly.
You must ideally gather lots of data and information before posting your product listings on Amazon. It is essential or this data to be accurate and factually correct to avoid any misinformation.
Product listings should not contain links and contact numbers. They also cannot contain pornographic, racist, sexist, or other offensive titles, descriptions, bullet points, and photographs. Product titles must be at the most 200 characters long, depending on the category.
There are specific fields that you necessarily need to fill to continue posting your listing. This shows how seriously Amazon treats the selling process in its marketplace.
When you choose our Amazon listing optimization service, you can be assured that our skilled team will take care of all your listing requirements.
How Amazon a9 Algorithm Works in Ranking Product Search Results
Amazon has established specific standards that you need to meet to be able to sell on their marketplace. They follow an algorithm that puts the most optimized listing as the top result. If you fail to meet these standards, Amazon may even suspend your account.
At 2nd Office, we pride our team of professionals who are well-trained on how to list a product on Amazon. By trusting our Amazon listing optimization service, you can grow your online business multi-folds.
If you have thousands of products to sell but do not have enough time to list and optimize them, our exclusive Amazon SEO services will make your listings stand out and have the best exposure.
Below are some of the requirements that has to be observed in order to be able to sell: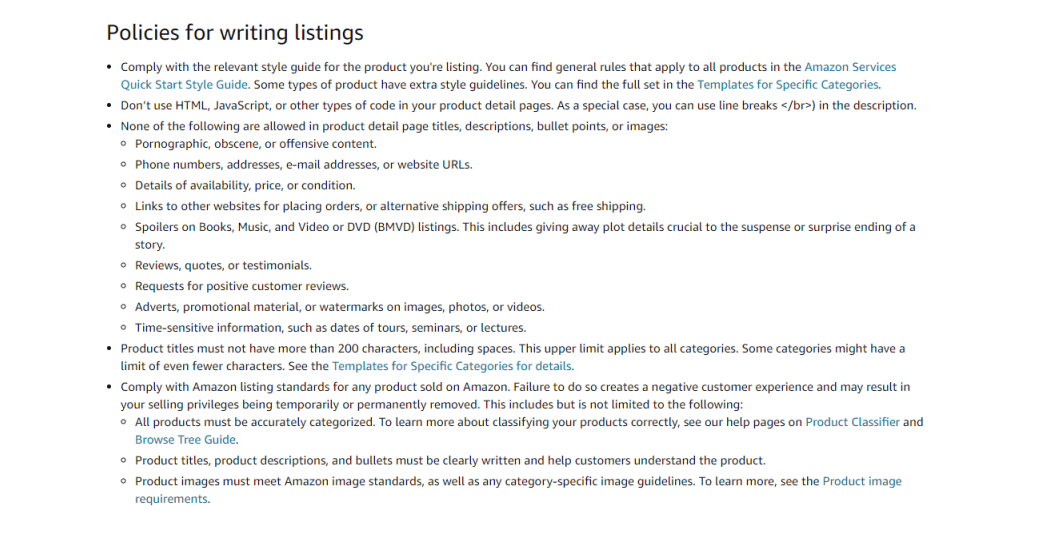 Optimizing Amazon Product Listings for Better Ranking
Improving the ranking of products in the Amazon search results is one of the essential goals Amazon sellers set.
It takes a great deal of effort and strategic approaches to achieve top rankings for your products. Optimizing to rank well on Amazon is way different than optimizing to rank well on Google. Understanding this difference is crucial for the effective optimization of Amazon product listings.
Some of the key considerations for Amazon product optimization:
Product Title

Similar to Google title tags, Amazon product title tags play an important role in the optimization process. However, the longer is your product title, the better, which is not so in the case of Google. You get 500 characters to play with your product title tag. Create keyword-rich product titles that are long and informative for your products. While creating your title, you may even follow a formula suggested by Amazon, which is:
Brand + Model number + Model name + Product Type, Color

Product Description

This the best place to add your target keywords and show your users what your product is all about. The bullet points feature is a prominent one used by brands when creating their product descriptions. Do not get lost in stressing about keywords so much so that you entirely forget about making it detailed and informative.

Amazon Reviews

Although there's hardly any connection between Amazon reviews and Amazon algorithms, reviews are worth mentioning here because of the simple reason that they boost product ratings and make the product listings look credible. Consider reaching to your loyal customers to improve your review count.

Images

A good rule of thumb when using images for your Amazon product listings is to use at least 5 to 6 images. Images are the most important visual elements in eCommerce businesses because, unlike brick and mortar stores, getting a feel of the product in the online space is a bit difficult, but that's what users rely on when making their purchases online. Have multiple pictures of the product from various angles such that it clearly shows the size of the product. Also, include a picture of the product packaging.
Our experienced Amazon virtual assistants can provide you with optimized product listings for your online selling business to make big. Hire us as your exclusive Amazon listing optimization service provider.
Want to Increase Your Sales on Amazon?
Our highly skilled Amazon VAs will help you with the best Amazon listing strategies for a remarkable selling. See your items selling in just weeks by choosing our specialized Amazon SEO services.
Success with sales on Amazon usually depends on the strategies of Amazon listing optimization service. We help Amazon sellers leverage the strategies surrounding listing optimization to achieve their business goals.
No matter how beautiful a product copy and images you have on Amazon, if you fail to bring visitors to your product page, you will eventually fail to make a sale. Listing optimization is an integral part of the puzzle responsible for leading to a sale. Our Amazon SEO services aim to optimize your product listings for the best possible search results.
Listing optimization is only a part of the puzzle. For it to make an impact on your sales on the Amazon platform, you've got to set up an effective launch strategy to drive internal and external traffic to your listing. When you choose our Amazon product listing optimization services, be assured that we'll set up effective launch strategies for your business using Amazon campaigns to help boost your sales.
Going a little beyond driving traffic to your Amazon listings and generating sales, we will effectively analyze them to give you a holistic view of your listings and optimization results. By knowing how your listings are performing, you may be able to adjust your marketing efforts to ensure your sales go up.
We know what it takes to convince your customers to add your products in their carts. Choose our Amazon product listing optimization services to boost your online selling business.