"Add to Cart" is a popular phrase we hear today, often mentioned by Gen Z and millennials, when referring to their shopping habits. Although it seems like a standard retail term, "Add To Cart" is a term made famous by one of the biggest industries today: eCommerce .
It didn't take long for markets and brands to jump online. Almost everything we could ever need (and want) can be bought with a single click. The modernized retail world made buying easier for the everyday shopper, with customization, enhanced return policies, and instant payment.
Of course, what we're seeing is only the beginning of an even bigger landscape. With the current situation, 2020 is making more innovation possible as businesses try to keep up with the "new normal."
What are the recent trends in eCommerce that we can expect to see moving further into 2020?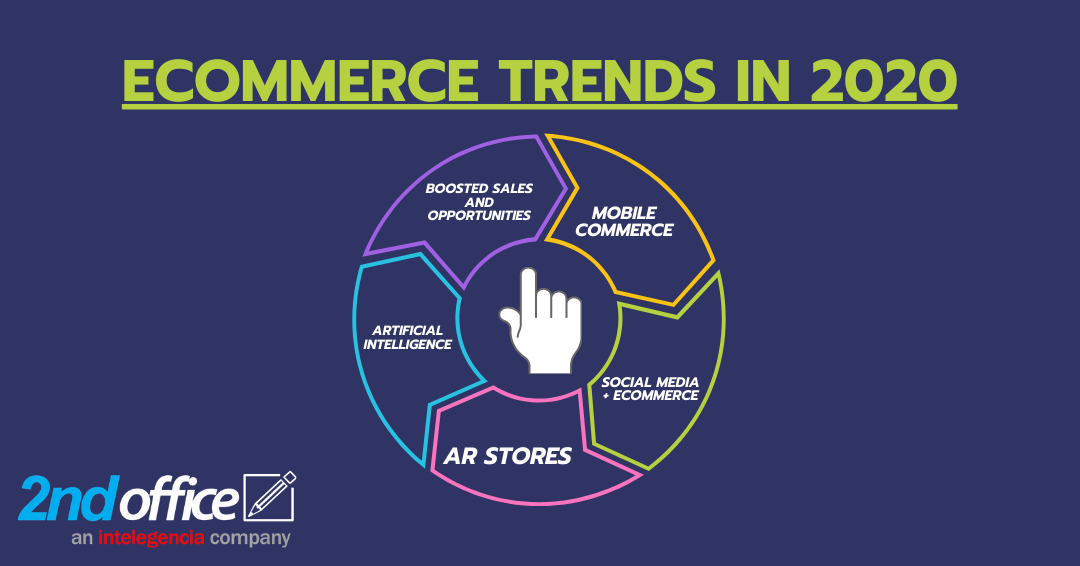 Mobile commerce and the future of online shopping
To brands out there: If it's not mobile-friendly, then you're missing out.
Users have long since shifted from desktops to mobile phones, with many activities now accessible on their handheld devices. Whether it's typing out notes for work or exploring a 10-page catalog, mobile phones now offer almost the same features that a typical laptop would.
More importantly, forecasts show that by the end of 2021, handheld devices will take over 73% of the total eCommerce sales. Rather than using it for just research, users are keener to purchase items with a few taps directly. Brands are predicted to jump on this trend, and we're expecting a spike in mobile-friendly platforms in the coming months.
Social Media and Ecommerce merged
Another on the list of eCommerce trends in 2020 is the rise of social media shopping. Social Media is an excellent way to reach customers with quality content and appealing product photos. Once you get them on your platform, you can link them to your website or marketplace to complete the buyer journey.
However, in pursuit of accessibility and convenience, social media and eCommerce slowly merged to create a better marketplace. Facebook's "Buy" buttons and Instagram checkouts make it easier for users to purchase directly through social media platforms. It's an excellent innovation that allows brands to reach customers as they scroll through their feeds.
Augmented Reality for better experiences
What separates eCommerce from traditional retail is convenience and accessibility, but online shopping does have its cons. For one, it can be challenging to gauge the size and overall features of a product from a few photos.
Augmented Reality (AR) is stepping up now and entering the industry to address this gap, allowing shoppers to see the product almost first-hand. More brands are exploring AR to bring the retail store experience to the customer from their homes' comfort, with furniture brand IKEA spearheading the development with its own "virtual store."
Artificial Intelligence to predict sales trends
Artificial Intelligence (AI) has long since been introduced to a ton of fields varying from healthcare to banking. It didn't take long for the technology to move into the eCommerce landscape. The innovation is moving at such a rapid rate that by 2022, we're estimating that AI will reach $7.3 billion per annum.
AI's contribution to the future of eCommerce will be through quite several avenues — catalog personalization, customer service chatbots, automated marketing platform, and even demand to forecast. It's undeniable that AI is a strong addition to the current eCommerce landscape, and as more business leaders invest in it, AI can only get stronger.
Prolonged effects of the pandemic
The positive effect of COVID-19 to eCommerce means the exact opposite for brick-and-mortar stores, with an estimated shut down of 24,000 branches. Take a good look at the top 10 eCommerce websites and observe how it will grow even after the pandemic. The "new normal" brought unexpected opportunities for eCommerce, and brands are expected to feel the effects for even longer.
With physical contact, limited and retail stores temporarily closing, online shopping demand will get bigger. Ecommerce will continue to grow as people start to realize the ease of ordering through their devices and having it shipped right at their doorstep.