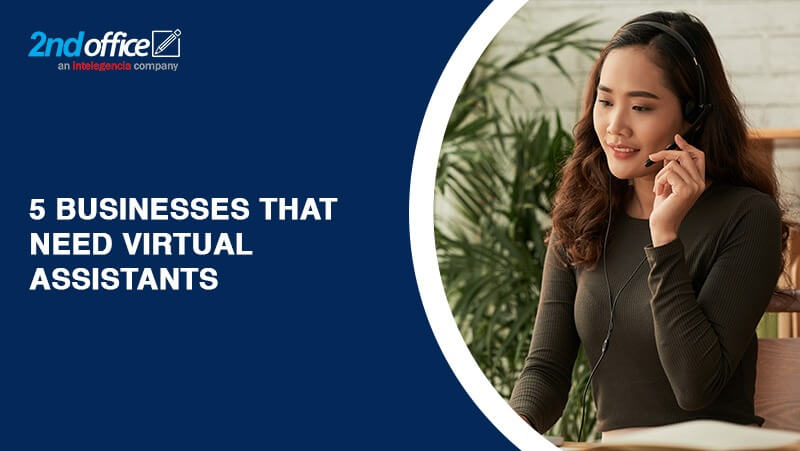 In today's world where nearly every sales pitch, query, and transaction are done online, companies can benefit tremendously from hiring virtual assistants. Virtual assistants present a convenient way to ensure that businesses focus on core tasks by taking on various administrative duties. These may include customer service, transcription, data entry, bookkeeping, and social media posting, among many others. As their name implies, virtual assistants can provide these services from a remote location. Moreover, VAs do not need to come to the office so literally anyone in the world can be one, as long as they possess the required skill set.
Some industries need the help of virtual assistants more than others. Here are the top five businesses that require the services of VAs.
Digital Marketing Agencies
Making a mark in the digital marketing space is crucial right now and for good reason. A huge chunk of the population spends their time online, whether simply browsing products, reading blogs and reviews, or purchasing from virtual stores and merchants. But business owners might already have their hands full on operations. Enter virtual assistants. They can help design the right marketing schemes and advertising campaigns across multiple digital platforms to yield brand mileage and eventually, profit. Depending on the skill set, VAs can also be adept at article editing, content curation, and lead generation.
Real Estate
Realtors and property managers may struggle with dealing with clients' needs first because of the staggering number of side tasks in the real estate business. These include generating and filtering leads, scheduling appointments, advertising on social media, email correspondence, etc. By delegating these responsibilities to a virtual assistant, real estate agents can focus on closing deals instead.
Law Firms
Trying to win a case can already be quite draining to legal practitioners, with the mountain of paperwork that they often have to sift through. Hiring a virtual assistant can help take care of such time-consuming tasks, including client correspondence, analysis, legal transcription, data entry, schedule management, and much more.
Medical Professionals
The pandemic has forced many businesses to shift some of the work online. Having a VA act as a receptionist is not only safer, but also more practical and affordable. Whether for surgeons, dentists, or psychiatrists, remote assistants can confirm patient appointments, perform data entry, organize files, respond to emails, and make follow-up calls.
Information Technology
IT companies need to ensure that their infrastructure is up and running round the clock and that employees are connected to secure, functional networks at all times. Instead of hiring additional IT support personnel for tasks like administrative and technical support, the more cost-efficient alternative is getting VAs.
Whatever the industry, whether law firms, IT companies, digital marketing agencies, real estate, or health professionals, virtual assistants have been fully embraced and are continuing to strive, especially in a world that's heavily reliant on the internet.
Does your business require the help of top-notch VAs? If so, don't hesitate to inquire at info@intelegencia.com.