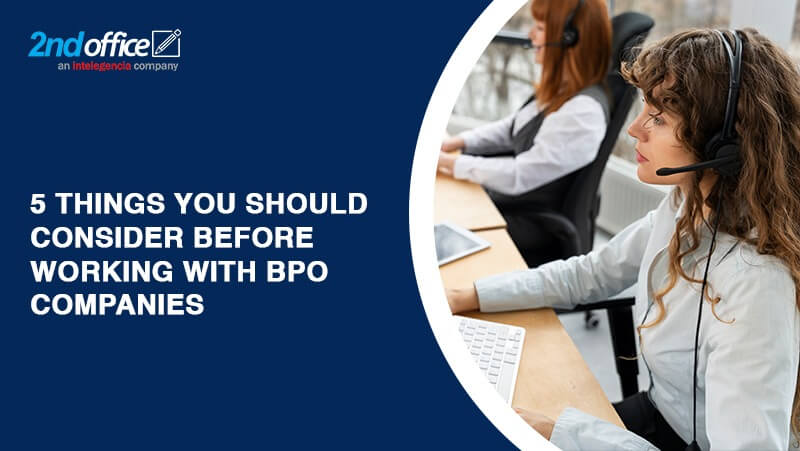 Businesses that get buried under mountains of logistical, financial, and operational workload often find themselves outsourcing. Allocating extrinsic tasks to a BPO company has been the trend these past few decades, with call centers sprouting like mushrooms in several countries, especially in Asia. 
Partnering with the right BPO company would help your business boost productivity, streamline services, and reduce overhead costs while cutting down on numerous expenses. So, what are the things to keep in mind before working with BPOs? Take a look below before you dive right into partnering with an outsourcing firm.   
Potential Issues
Just like any other business, BPO companies have their fair share of issues – inadequately trained employees, mishandling of sensitive information, etc. It's best to foresee the things you wish to avoid and emphasize these during negotiations. This will give the company you want to work with a clear picture of what you want and gauge whether they're up for the challenge.
It also wouldn't hurt to do a bit of research on the company first before signing any contract. Discuss with them your goals and the ways to measure quality standards and ensure that they're specific, measurable, attainable, realistic, and timely (SMART). Clear communication would lessen the risks usually associated with BPO companies.
Proven Industry Expertise
Most BPO companies offer a mix of outsourcing functions. Determining exactly which ones you need and knowing that the company you're eyeing has a proven track record on them is crucial. Whether you need inbound or outbound contact center services, email support, live chat, or social media monitoring, come fully equipped with every know-how about them before finalizing the deal. Also, check if the company has had similar projects as your business in the past and how successful they were.  
The People
Is the working environment of the BPO firm you're considering up to your liking? After all, you'll be dealing with these people for quite some time so knowing about their culture and management style is important. Properly peruse the persons you're in contact with and, if possible, schedule a site tour to get a clear sense of the outsourcing company's populace.
Infrastructure
When choosing your outsourcing partner, it helps to scrutinize their company infrastructure. Aside from a reliable roster of talent, a good BPO service provider must have proper facilities, an adequate communication infrastructure, electricity backup, workplace accessibility, etc.  
Accountability
There would certainly come a time when problems would arise and even pile up. Not everything's going to be the BPO company's fault. Sometimes, the accountable one is going to be you. Establish mutual respect and joint responsibility and find a way to get to a viable solution together instead of playing the blame game.
Be critical of the BPO company you're considering working with. At the end of the day, it's your money and reputation that you're putting on the line. For proven industry expertise backed by years of experience, don't hesitate to contact 2ndOffice.