The tight-knit competition in the e-commerce industry is not to be underestimated.
Ask any young business leader, and they would tell you the same thing: Entering the market that's crowded with businesses clamoring for attention is no walk in the park.
For some entrepreneurs, the thrill of fighting for the consumers' attention is what makes running a business worthwhile. Established companies already have best practices and proven strategies of their own. But in the startup market, it's always about testing waters.
When the "new normal" was introduced, a ton of business entities had to adjust to cater to customers' evolving demands. Various industries left and right made moves and fought for the consumer's hard-earned cash. From banner ads to YouTube commercials, users of the Internet are just plagued relentlessly by advertisements.
But what would help make your business grab the attention of the desired audience and get them to purchase your product or service? Digital presence.
How can social media marketing help a business grow?
Several benefits come with tapping social media for your marketing efforts, such as traffic, sales, and reach. However, the exact numbers still vary depending on which platform you choose for your business.
Generally, active online brands can expect the following from being consistent with their social media marketing strategies:
More significant reach, more potential customers
Tailoring your content to your target demographic allows social media platforms to do the searching for you. Since we enter a few necessary details about ourselves (birthdate, location, and even interests), social media uses this information to retarget your ads and widen your reach – giving you a chance to pitch to a bigger audience.
Real-time valuable conversations
Nothing beats authentic conversations with your customers. Find out what they need and gather feedback through real-time conversations such as live chat and email. You could even hop on your Facebook or Instagram stories to start fun Q&A sessions or polls. The opportunities to know your market on a deeper and more personal level are almost endless.
Go beyond sales pitches
Let's face it: Sales pitches and paid ads aren't as effective as they once were. Today, consumers value genuine brands. If you want to be a step ahead, don't focus your marketing efforts on selling. Instead, provide value and build connections with your audience. It's the most effective way of creating loyal customers.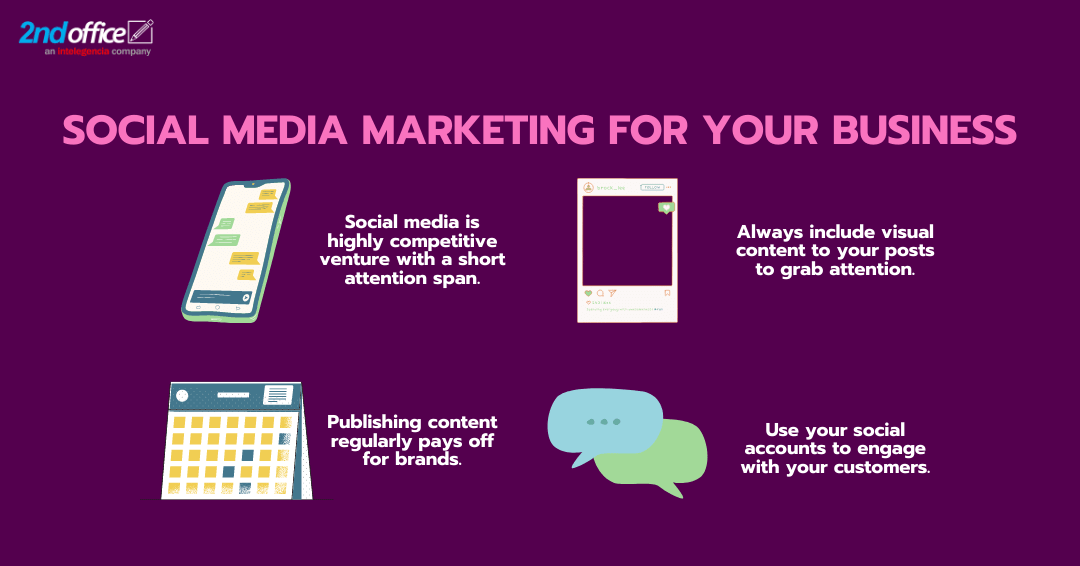 How to build a social media following from scratch
When you first create your page, it might be tempting to go ahead and Google "how to get famous on social media" immediately. But don't fall for old tricks. Building an audience that will engage with you takes time. If you've already set up your social media platforms, you can go ahead to the next part!
If you haven't invested in a platform yet, that's perfectly fine too. It's never too late to start. Here's an outline of how you can get started on your social media strategy.
Step 1: Set your objectives and your target market
A good strategy starts with a good understanding of what you want to achieve and who you want to reach. List your goals down according to priority. Outline your target audience based on interests, gender, and demographics. These will help you create focused and compelling content.
Step 2: Analyze your competitors
It's always a wise practice to check what your competitor is doing. What platform are they on? What kind of content are they publishing? How do they speak to their audience? Simple questions like the ones we mentioned will allow you to position yourself in the digital space better.
Step 3: Choose your leading network and set your brand personality
At this point, it's time to figure out which platform you'll want to prioritize. In doing so, you'll also slowly figure out the brand personality that you'll display to your audience. Some of the guidelines you'll want to consider are:
Brand voice and tone
How to interact with your audience
What type of content to publish
Your brand personality is how you will consistently portray your company on social media. Your customers will remember you for it, so take your time and give it some serious thought!
Tips for establishing your digital presence
Less style, more substance
Do you want to acquire your customer's undivided attention? Then get rid of those fancy-pansy ads, annoying animations, and use of viral videos or its cheap imitations! Let's face it; customers are most likely to leave the site than sit and watch that irritating ad. Images with low quality expired offers, and old blog postings are of no help either. You have to keep in mind that online customers are looking for factual information and know they have more than one option over the net.
A picture that paints a thousand words
Use pictures that are clear and well-defined. It does not have to be in high-resolution, nor should it be in pixelated, thumbnail sizes. Try showing your customers some vibrant and exciting pictures that would help enhance their interest in your business. Engage people by posting photo tutorials or product images on your site. Utilize websites like Pinterest to draw and attract more customers to your business.
Lights, camera, action
Videos are useful tools that help a lot in contributing to your business. Users who search for a topic, read a description and find unrelated video content could feel very frustrated and leave your site.
There's more than just one flavor
Just because you have a Facebook page doesn't mean that it should be enough. Diversity is the key here. Many social networking sites are up and running online. People will start taking notice if you begin to take the initiative of being noticed. Twitter, LinkedIn, Google+, and Flickr are among the few popular social media sites available today. Also, don't forget to update your feeds regularly. Customers may think that it's only there just because they don't post anything new and exciting. Take the time to interact and entertain them if they have questions. It won't be called social media if you don't even bother to "socialize."
Sharing is caring
Last but not least, always include the share button on your site. Nothing beats "word of mouth" or recommendations from people who've already shown a particular interest in your business. The more people know about you, the larger your customer base becomes. Today, companies have increased their sales projection– thanks to the dynamic content they have put up online. So, it's no big secret that businesses grow little by little every day with the aid of these easy steps.