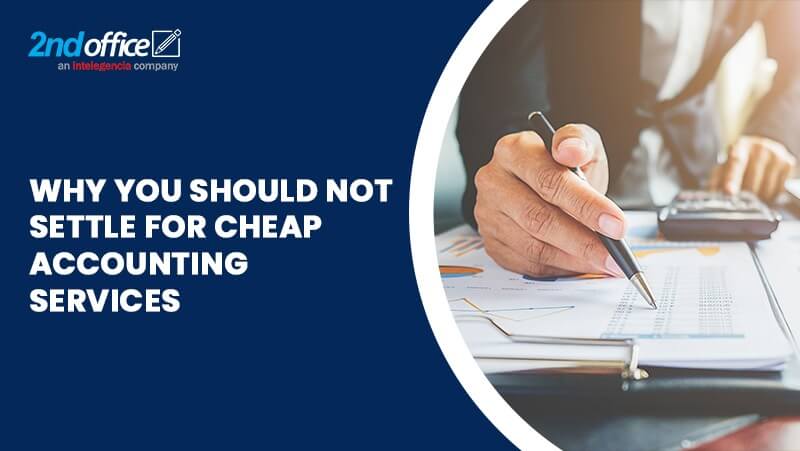 Accounting is a vital part of any business – no business exists without accounting, and you must not settle for low-quality service. With the presence of exceptional accounting services, you will be able to keep track of your profit and loss, and the overall performance of your business.
For a business to grow, you must not settle for cheap accounting services, as the proper handling of your funds is the key to avoiding financial struggles. Think about it: you may be paying less for a low-cost accounting service, but if the accountant you choose does not provide good service, you may end up paying more in the future.
YOU GET WHAT YOU PAY FOR
When you settle for cheap accounting, the services you get may be very limited or worse, substandard, which may lead to even bigger problems. This is because service providers typically work according to the amount they are given. And while vendors who can offer both quality and affordable financial accounting services DO exist, they are very rare, and searching for one through trial-and-error may be detrimental to your growth.
Getting affordable accounting services may be a decent option if you want to save money, but saving resources does not always equate to good results. Ask yourself questions like "does my accountant track expenditures efficiently?" or "will my accountant be able to help me achieve my target profit?" before settling for cheaper accounting services. All delays have penalties, and mistakes such as the late submission of documents may become massive headaches in the long run. Also, remember that your accountant's job is to keep an eye on your income and help you decide whether you will continue operating as is or divert the business, so be sure to choose an accountant who is able to make the correct recommendations.
WHAT QUALIFIED ACCOUNTANTS CAN GIVE YOU
With accounting, laws and regulations must be followed strictly, and an accountant must be updated with all rulings pertaining to your business for timely compliance. You may have to pay extra for a more qualified accounting professional, but the services they are able to provide will be beneficial to your business and ultimately, your peace of mind.
The best accounting services boast top-tier qualifications and are completely dependable, and you pay more for their experience and access to more comprehensive knowledge and resources. These service providers will keenly review your finances and help you decide correctly on aspects like revamping your management, inviting investors, managing expenditures, and more. Moreover, there is a good chance that after choosing the more expensive accounting services, you may even save more and earn more profits in the long run.
When it comes to hiring an accounting professional (or any other critical employee, for that matter), always compare the value he/she can bring versus the resources you are giving up for that value. Of course, getting affordable financial accounting services that deliver quality output is the best-case scenario. But if you are willing to spend a little more, a more expensive accountant that can provide complete and dependable services will definitely produce good returns for your business.