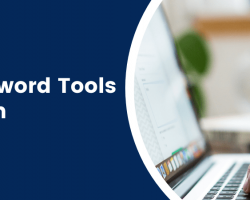 Amazon is a breeding ground for sellers and merchants who cultivate their craft for online selling. With various competitors, increasing your revenue and gaining brand exposure is a matter of persistent determination along with the right skills and knowledge. Getting ahold of these two steps will not be easy but with the necessary tools and software, it will increase your chances of improving your online presence and become more prominent in the market.
In this article we will be teaching you the ways to get around Amazon Keyword Optimization, its importance along with the top keyword tools that Amazon sellers use frequently. 
1. MerchantWords
MerchantWords is one of the best keyword tools in the market for dealing with a bigger audience, as it also takes keywords not only from Amazon but from other ecommerce platforms as well. It allows users to see all the variations and search volumes, seasonal and dominant categories in various countries, making it easier to modify and generate keywords to improve your listing.
2. Keyword Tool
Keyword Tool is the ideal software in finding and generating long tail keywords in the market. It easily lets users identify the long search terms that has less competition, so they can conveniently incorporate it in their listings. It also enables users to assess and evaluate your competitor's performance to discover the main keywords they use.
3. Scientific Seller
Identified as the slowest keyword tool, Scientific Seller is known for being meticulous and for delivering accurate, relevant search terms to every Amazon seller. A single search can last for hours and offer extensive results on long-tail quality keywords. The software is free and perfect for start-up sellers who want to step up their game without compromising their budget.
4. Sonar
Get the keywords you need with Sonar's sleek and easy to navigate interface — the perfect software for beginners. It offers free reverse ASIN lookup and utilizes complex algorithms to get the best search results, keyword translation, data transporting, and index check. It is easy to use and even has a free Google Chrome extension you can quickly install in your browser and lets you easily get access to a database with over 70 million keywords, making it the best choice for sellers who have little to no experience with Amazon Keyword Optimization.