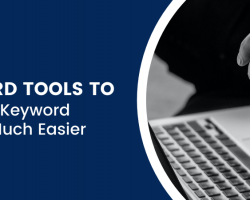 As an Amazon seller, it is crucial to enrich your keywords as they bring in traffic to your product merchandise. Without the proper search terms, it will take a while for shoppers to discover your content.
To help you on this, we rounded up a list of the top keyword tools frequently used by Amazon sellers to further boost their content while running Amazon product page optimization.
Ahrefs Site Explorer
Ahrefs is a powerful keyword search tool with a large database of over 7 billion keywords updated on a monthly basis. It also has additional features such as volume estimation, newly discovered keywords and country specific results, which provides better accessibility for sellers who handle data in various countries. It's also an ideal tool for users who offer merchandise to a bigger and more diverse audience. With various metrics available, users can determine the products that shoppers are currently looking for and analyzes the gathered data from competitors.
Helium 10
With a wide set of tools and data, Helium makes it easier to run Amazon Keyword Optimization. It shows impressive findings with multiple features to accomplish intensive research. It also suggests data findings and filters such as 'top products', 'Amazon recommended', 'word frequency' and even finds keywords that users aren't currently listed in. It has four subscriptions: the free version, Platinum, Diamond, and Elite.
Scientific Seller
While others show fast results, Scientific Seller is known for its meticulous and accurate search results and is actually labeled as the slowest keyword tool in the market. A single search in this software can take hours as it delivers comprehensive and detailed results in finding the most appropriate keywords to fulfill and successfully accomplish Amazon product page optimization.
Viral Launch
If you're looking for a software that has it all, then Viral Launch may just be the one for you. Aside from keyword research, it also offers a product discovery and market intelligence tool to conveniently perform product research while showing extensive and astounding discoveries for strategic plans in the future. Listing analyzer & builder are also included and gives users tips and recommendations on how to properly enrich content. Additional features include reverse market lookups, historical search trends, and Amazon search volume data.
Keyword Inspector Keyword Inspector has a variety of functions from trending keyword search (that enables users to check the top search results which can then be filtered depending on the expected time frame) to reverse ASIN look up (that immediately shows the keywords used for a specific product item). With 600 million keywords in the system and data information on different countries, users can easily do in depth research to optimize product listings and achieve desirable outcome.