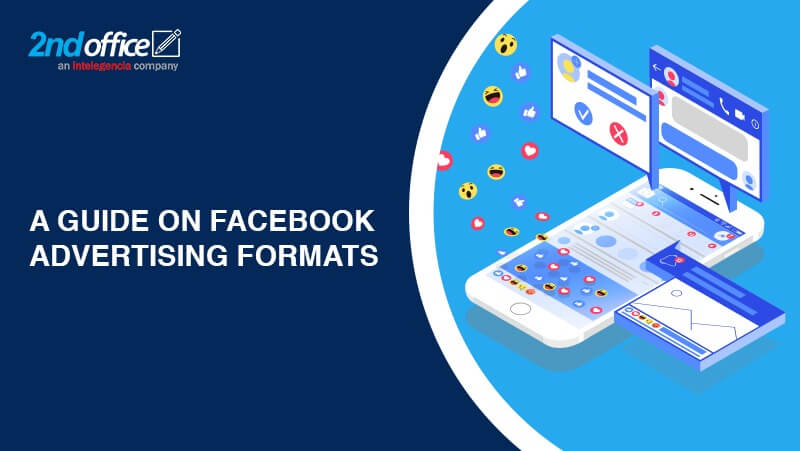 Advertising is an important part of marketing your business, but as with any promotional effort, advertising requires a significant portion of your budget to reach a larger audience. Many advertisers today use social media to promote their products or services in order to generate more impressions, clicks, and sales conversions in a more cost-effective manner than traditional advertising. 
While there are many social media platforms that you can use to promote your business, advertising on Facebook offers a unique opportunity for you to promote your campaigns to over 2.60 billion monthly active users and augment your campaigns to reach your ideal customers for as little as $5 per day.
If you are looking into promoting your business on Facebook, it is critical to understand the various ad types and targeting options before launching your first campaign. 
Why Facebook Advertising?
With over 2.60 billion monthly active users, Facebook is one of the most popular and largest social media sites. Notably, you can reach your ideal audience by targeting specific factors that are not limited to their location (countries, states, cities, and zip codes), gender, and age but also by their behaviors, interests, life events, and more. 
Types of Facebook Ads
Ads on Facebook are designed to match your preferred objective – brand awareness, conversions, or leads.
The most basic ad format, image advertisements are ideal for any stage of your campaign, whether you're trying to raise brand awareness or promote a sale to boost conversions.
Best practices for Image Ads:
Pay attention to aspect ratios to avoid having your final product stretched or cut off.
Make an effort to create high-quality visuals that stand out on Facebook.
Use only as much text as you need to keep your message focused.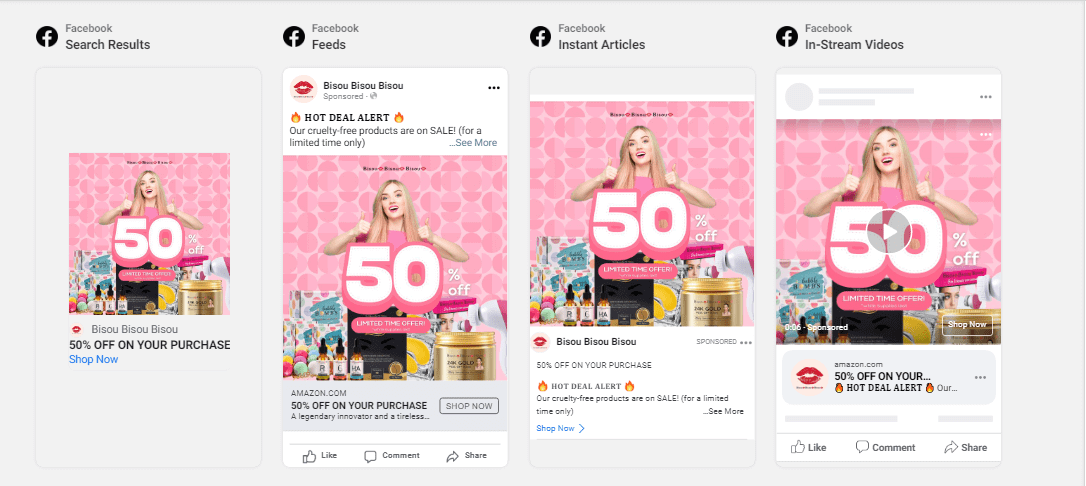 Image advertising, on the other hand, are not a one-size-fits-all solution for your campaign. If you want to demonstrate how your product works or display many products at once, the single image format may not be the best option for you.
If you want to connect and entertain your audience, you may opt to create video ads. Video ads drive high audience engagement and appear in the News Feed, Stories, or in-stream ads in longer Facebook videos.
Best practices for Video Ads:
Keep your videos short – according to Facebook, a 15-second video gets more engagement than a lengthier one.
Start your video with something intriguing to captivate your audience.
The only disadvantage of video advertisements is that they take more time to create. If you only have a few messages to convey, an image or carousel may be more effective.
Slideshow ads are a less time-consuming and more manageable version of video ads. This sort of ad is made up of 3 to 10 visuals or a single video in the style of a slideshow and is designed for markets with limited internet access.
Best Practices for Slideshow Ads:
To make an impression, use high-quality visuals and videos.
Only use music that you have the right to use.
Use slideshow versions of your best video ads to target places with poor internet connection.
Slideshow ads are suitable for individuals who have no prior expertise with video production.
Stories ads are great for showing off your brand through a full-screen, immersive experience that flashes in between a user's Facebook, Instagram, Messenger, or WhatsApp Stories. Videos, pictures, and even carousels can be used to create your Stories.
Best practices for Stories ads:
Maintain a quick pace in your Stories by switching between different images and videos frequently.
To improve the viewing experience, use features like motion and augmented reality.
Optimize your images and videos for full-screen viewing.
The ad creatives used for Stories ads may require a different formatting that the usual ads that shows in the News Feed.
Learn more about Stories ad specs.
Carousel ads may be the appropriate choice for your campaign if you want to promote and introduce your product or service. Audiences can flip between several images or videos that can be tailored to have a specific headline, link, description, and landing page.
Best practices for Carousel ads:
Create separate headlines, CTAs, and descriptions for each section of your carousel.
To pique your audience's interest, start with the best-performing photos or videos.
For a more personalized experience, link to various landing pages.
Learn more about carousel ad specs. 
A Collection ad is similar to a mobile window-shopping experience, where readers may scroll through your product collection with only one tap. This type of ad is preferred by large online stores to promote their product line-up.
Best practices for Collection ads:
Allow Facebook's algorithms to choose which products from your inventory to show to each individual user.
Fill your catalog with a wide range of things from which Facebook can select.
Choose an appealing graphic to entice visitors to click on the ad.
Learn more about Collection ad specs. 
Previously called Canvas, Instant Experience advertisements are mobile-only interactive ads that allow Facebook users to interact with your content. Your target audience can swipe through a carousel of images, rotate the screen in different directions, and zoom in or out by moving their fingertips.
Best practices for Instant Experience ads:
Facebook suggests that you include five to seven components (pictures, videos, and so on) in your ad to increase engagement.
Use a pre-made template if you want to save time.
Keep your key idea in mind throughout your ad.
Learn more about Instant Experience ad specs. 
Lead ads are specifically meant for mobile devices to make it easy for people to fill up forms. These ads are ideal for gathering information to learn more about your potential customers, do market research, newsletter subscriptions, and other purposes. 
You can offer targeted products to the clients who are most likely to be interested in them by using dynamic ads. By using this type of ad, you can promote a specific product through your audience's Facebook feed whenever they visit or abandon a purchase from your website. 
Facebook has a variety of ad formats and types to help you get the most out of your campaign. However, as with any marketing effort, it is recommended that you test various ad types to discover which one converts the best for your campaign goals.